Nice-Matin Communication chooses CTS Publicity cloud edition
Nice-Matin Communication acquired CTS Publicity to market the airtime of the TV channels Azur TV and Var Azur.
In 2017, Azur TV entrusted Nice-Matin Communication with the sale of advertising space for its local channels Azur TV and Var Azur.
After several months of commercialization, Nice-Matin Communication decided to equip itself with a professional software to manage the booking of the advertising campaigns sold.
CTS Publicity, published by the French software company CSE, has naturally been chosen. CTS Publicity communicates natively with CTS Antenna Professional, the broadcast traffic system used by Azur TV.
Nice-Matin Communication is Azur TV's second partner to equip itself with CTS Publicity. A few months earlier, La Provence Médias had also implemented CTS Publicity to book the campaigns in the commercial breaks of Provence Azur.
CTS Antenna and CTS Publicity were installed in a cloud environment on the same database. This integration allows remote access to the software and automates the transmission of advertising campaigns to Azur TV. It simplifies their insertion in the playlists of each channel and allows sales-houses to retrieve daily broadcast reports (advertising asrun).
The diagram below illustrates the exchange of information between CTS Antenna and CTS Publicity: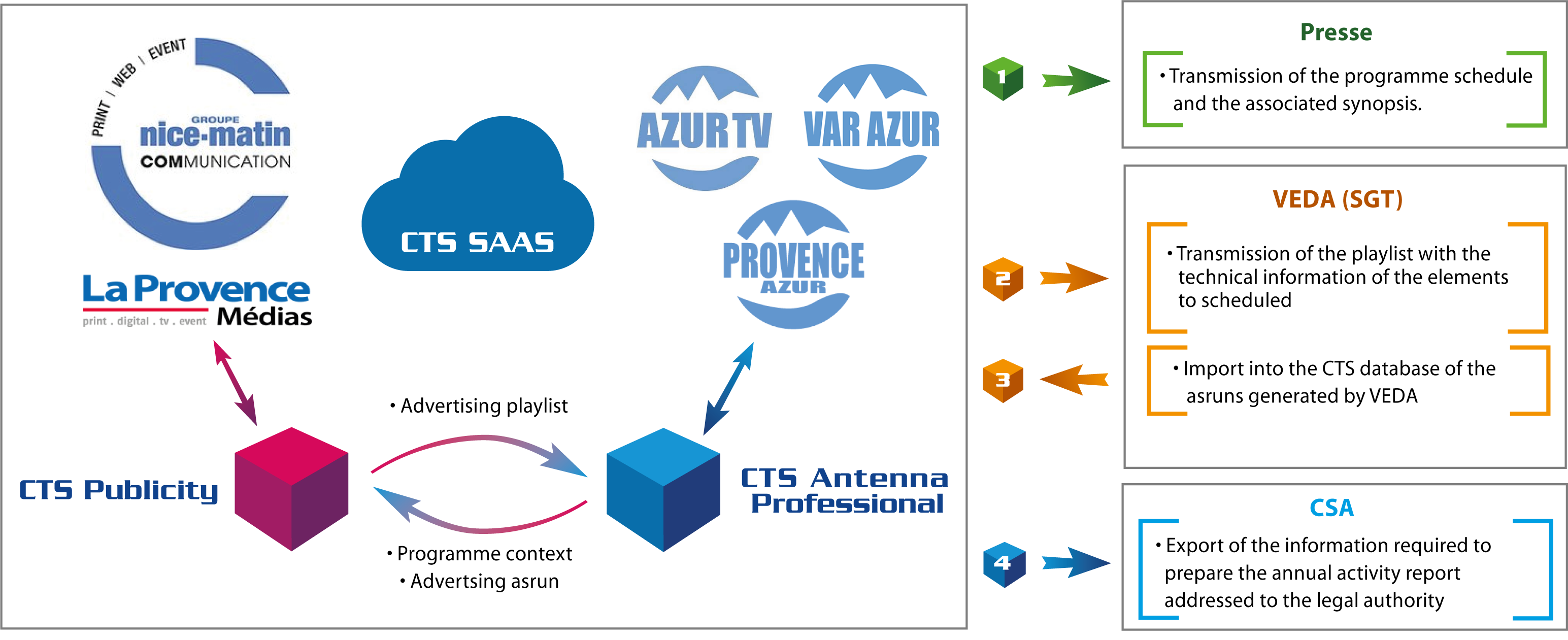 According to Marc-Olivier Hechenblaickner, TV Project Manager of CSE: "the use of our range, installed on a single database, by three different companies was a technical challenge for our team. Azur TV, Nice-Matin Communication and La Provence Médias now benefit from a unique and efficient solution, well-adapted to the needs of each actor. This model may interest other broadcasters and sales-houses in France and abroad, and its implementation is now well validated."